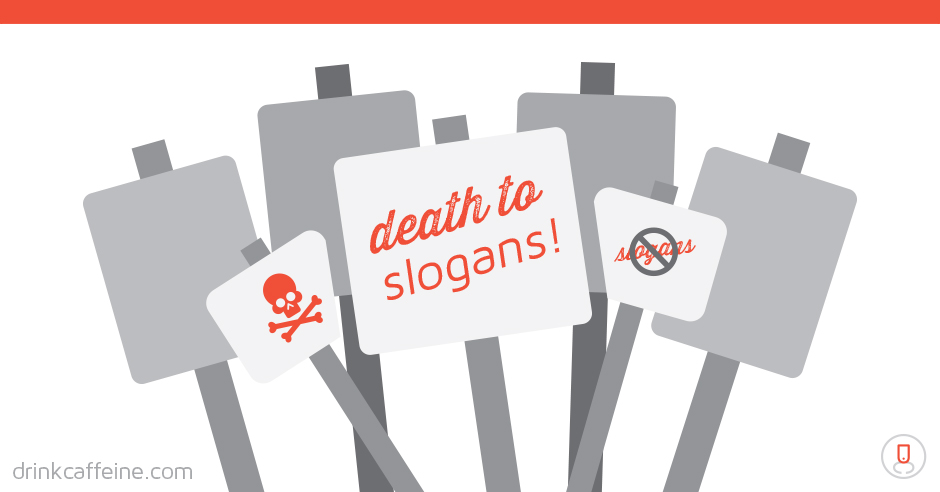 Taglines: Still tagging along
You might think that the transparency created by digital communications between consumers and brands would make advertisers stop cranking out empty taglines.
After all, if "advertising" is a conversation that unfolds gradually, why start it out (or punctuate it) with a chest-thumping, self-congratulatory catchphrase?
Yet the tagline lives on.
Caution: Handle taglines with care
The role of the tagline has always been to convey one of three things: 1. The condensed essence of the brand message. 2. Its point of differentiation or 3. The value proposition.
But critics (like us) advise that branding today lives in 140-character bites, 25/35/35 copy blocks, oddball video personalities, website UX, and other things that have nothing to do with slogans. For example, using taglines in branded social content is a big faux pas. It's just uncool.
Even worse, as Bud Light learned the hard way, sometimes taglines backfire.
It's also worth noting that when Toyota vehicles were experiencing "sudden unintended acceleration" their tagline was "Moving forward."
Toyota pulled the message, and now uses "Let's go places."
Changing taglines = Identity crisis
No industry is more in love with taglines than the automotive industry. A few phrases stick around – Built Ford Tough, The Ultimate Driving Machine, et al – but most get used and thrown out like old wiper blades.
Chrysler-Dodge may be the ultimate Tagline Abuser. Here's a look-back at some of their brand messages:
Dodge. Different
Dodge. Grab life by the horns
Chrysler. Drive = Love
Chrysler. Inspiration comes standard
And, more recently, this lemon:
Dodge. Domestic. Not domesticated.
In trying to portray Dodge as a maverick brand, they make it sound like their cars aren't even housebroken.
The larger point: Changing taglines too often makes a brand look like it's having a wardrobe crisis.
A better direction: Build a Family of Phrases.
We often challenge clients who want to unite their brand on the back of a single slogan with this question: Why limit yourself?
Instead, define the 3-4 discrete selling ideas your brand wants to convey and create your own lingua franca.
This thinking is set in motion by the image/message rotator common to so many CMS platforms. Its value is that, every 8 seconds, it inflects how the brand articulates its core messages.
So, as taglines come and go, our recommendation for clients is to create a "language deck" for the brand and the personas it serves.
Build out key messages for each audience, and condense them to their simplest expressions. Use them as a family of phrases to reinforce different ideas, based on the audience's expectations and interests.
Last, don't be afraid to change your messages – but have a good reason for doing so.
If you're up for a cup of coffee, contact us.