Creating a viewbook
with value.
The client:

Services:
Service List

Advertising & Collateral
Graphic Design
Our view: View books in any form are resource-intensive undertakings. So if you're going to go there, go big.
By this we mean bring together big ideas, impactful images, and deep-dive copy into a single execution with a lot of perceived and actual value.
Hopkins School in New Haven – an elite day school for grades 7-12 – shared our philosophy. They wanted their view book to be a content-rich document that dives deeply into the world of the students and provides a seamless intellectual framework for the school's message.
Here's an overview of our approach.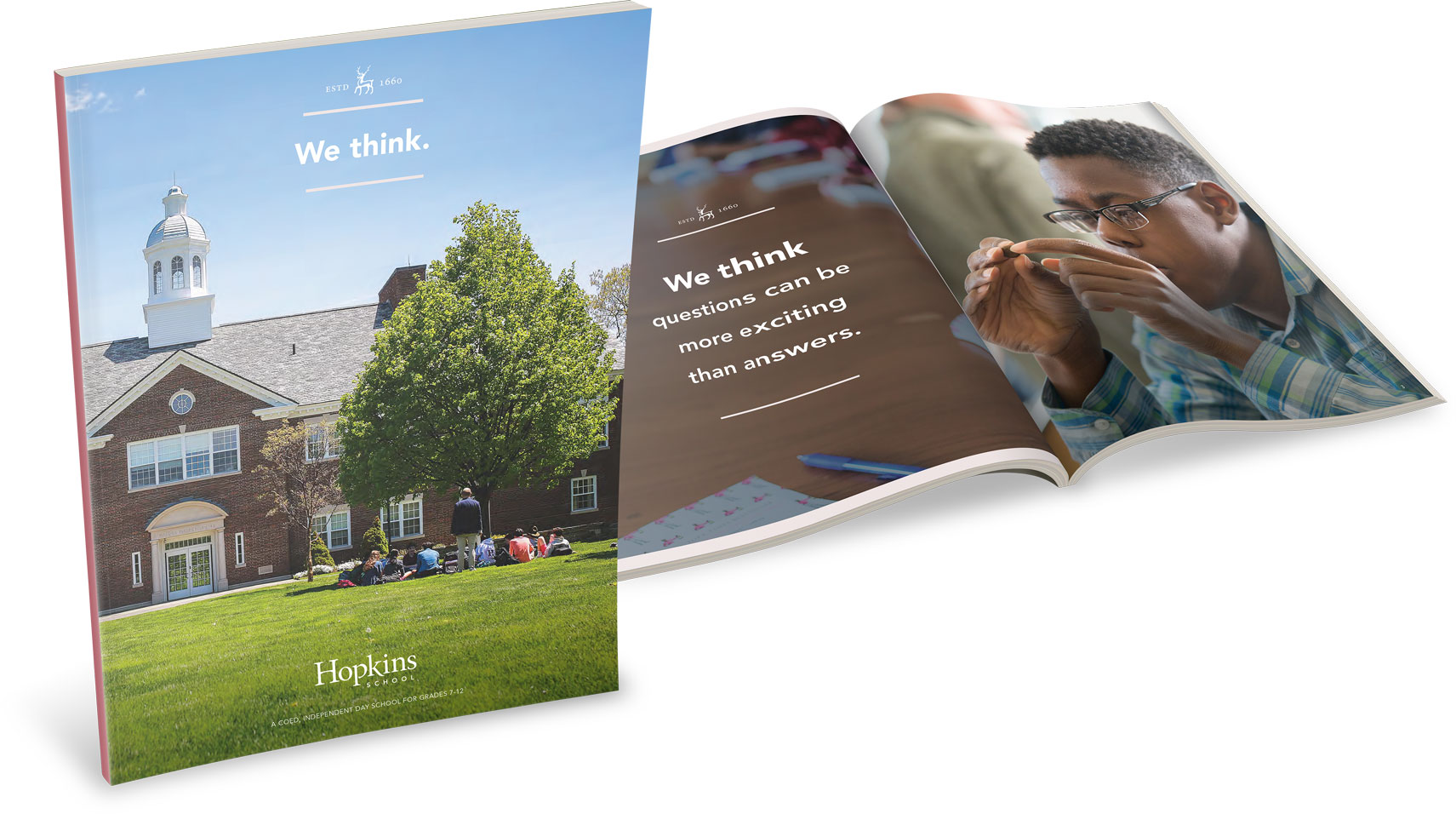 Connecting positioning and message delivery.
Hopkins uses "We think" as an overarching statement that reflects its intellectual tradition of critical thought. Our work needed to take the message deeper and explain what it means in real terms:
The ability to create precise and probing questions.
The belief that a culture of thought is formed by contributions from an endless range of viewpoints.
Relationships enable every aspect of student development.
A truly well-formed mind is the sum of experiences that also include sports, arts, service, and social activities.
Connecting positioning and message delivery.
Seeing red. We incorporated Hopkins' signal brand color into type, background, and photography, while still leaving room for other colors in the palate. The effect maintains Hopkins' equity in a deep, muted red, but opens up the view book to many other textures and temperatures.
Editorial depth. Believing that students are the strongest spokespersons for any school, we created email surveys and in-person interviews, formatting their responses as lifted-out quotes and individual profiles rendered in Q&A editorial format to keep it fresh.
Details in the back of the book. Many schools struggle to determine where to place necessary but clunky information on classes, sports teams, and boilerplate data. Our experience tells us it's better off in the back of the book as a summary listing – not as a rigid, predictable content structure for the whole document.
Producing 2 versions for 2 audiences.
While the full view book enjoyed a print run of 1000 copies, on a parallel track we produced a smaller version that contained the essence of the larger version without all of the detail – and expense. This enables Admissions to evaluate the strength of an inquiry and respond appropriately.
Share your view on view books.
The day of the view book is far from over.
Digital versions – with links, animated graphics, social media interaction, and click-to-contact functionality – are growing in popularity, but usually as a companion piece. The printed view book remains popular because it offers the intellectual and graphic intimacy that longer-format print media excel at delivering.
Have a look at the digital version of Hopkins view book and share your thoughts with us.