Building a home
in eldercare
The client:

Services:
Service List

Research
Content strategy
Website Design & Development
SEM & Analytics
The story:
SeniorBridge is one of the nation's leading players in the highly competitive field of in-home care for extremely needy people. That's why Humana bought SeniorBridge – and allowed the brand to continue on its path. Our work involves managing the SeniorBridge website so that it continues to consolidate its brand, position its core services, and attract caregivers and care receivers.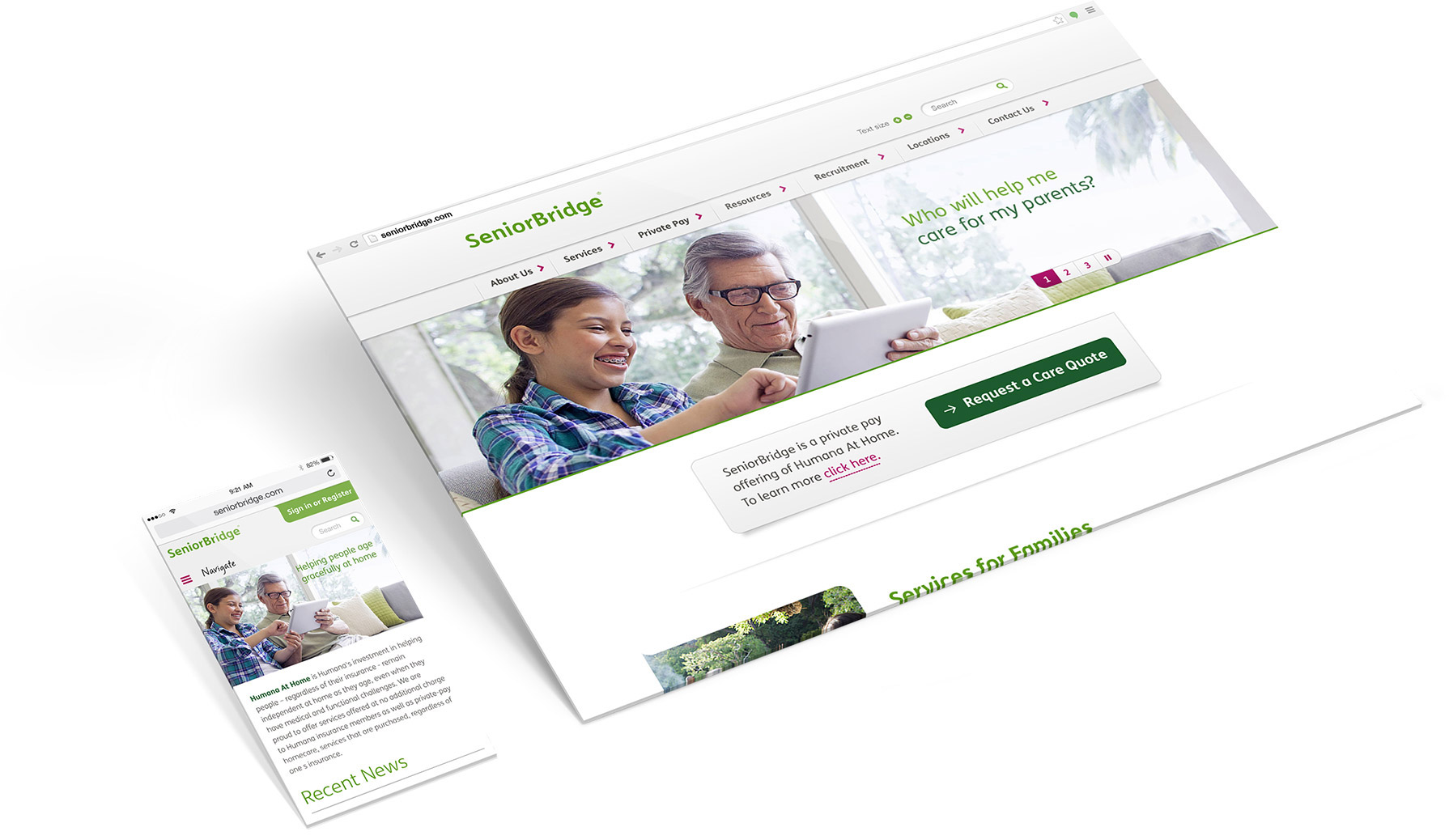 The solutions:
IA/Content strategy. We kept the information architecture cleanly defined, with easily understood drop down menus that are minimally invasive to the UX.
Design. The SeniorBridge site is clinical without being cold. Language is easy to read. Information is easily viewable. The experience is easygoing and inviting – ideal for users who are facing difficult, life-changing questions.
Content tools. A Risk of Hospitalization Quiz helps seniors assess their risk, and helps them plan to stay in their home. Tools for Caregivers deliver value for adult children who are caring for ill parents. A Contact Form prequalifies leads as high priority inquiry vs lower priority, so SeniorBridge can take immediate action when the situation requires it.
Digital marketing. We created a geo-targeted (NY and NJ primarily) PPC program that entered this expensive DMA as inexpensively as possible. PPC ads linked to unique landing pages for each market.
New market development. Research and digital marketing enabled us to pinpoint 3 opportunity markets outside of the client's home turf of the northeast U.S: Scottsdale AZ, Greater-Orlando, and Charlotte NC. This allows SeniorBridge to develop new markets in a measured, controlled way – with measurable results.
Key results:
95%
increase in CTR via PPC
79% increase
in qualified leads
25%+ close rate
on leads generated.