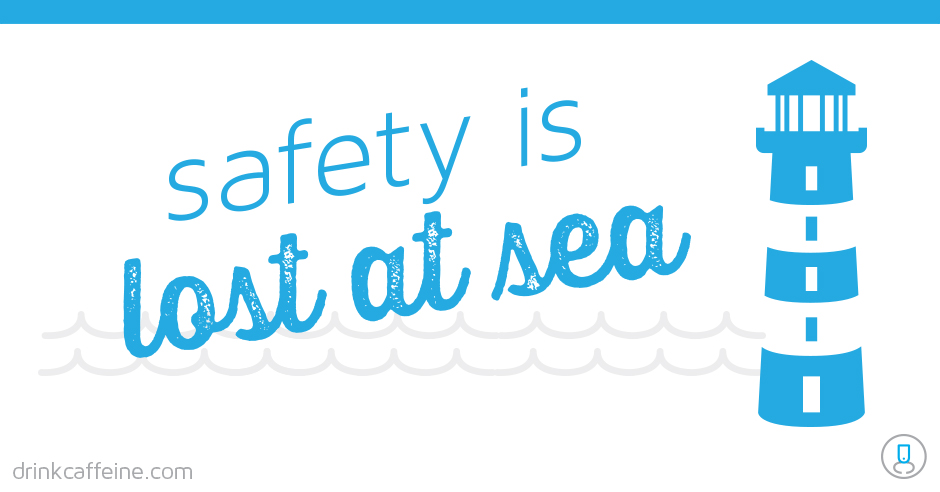 Safety is lost at sea
Looking at some of 2015's Top Sportcruisers up to 45 feet, you see the usual suspects: Searay, Bavaria, Jeanneau, and so forth.
Now go to their sites. What you don't see is any message about safety. [Sorry Searay, all your safety links redirect to your home page.]
It makes us wonder why OEMs (of boats and related equipment, such as navigation electronics) don't see the chance to reach boaters at a level beyond the features and specs of their products and talk about something that matters: Being safe on the water.
What car manufacturers understand
The automotive industry knows how to make safety a brand differentiator. Exhibit A: Volvo, where safety is a science-based religion.
Volvo understands that cars carry babies and pets in addition to grownups, that the female head of household is driving the decisions around what to drive, and that safety for her family is a front-and-center issue in everything she does.
The point: Boating OEMs should consider opening a marketing channel to all consumers, men and women, to talk about product safety. It's good marketing and good business.
4 ways to leverage safety content into marketing content
Start by stating the obvious. Create website content that brings safety information to the user in terms they'll understand – not just a bunch of compliance and credentials and owner's manual information, but well-designed pages and experiences that bring safety into the mainstream of the user experience.
Make safety packages an upgrade. A leading brand like Sea Ray highlights features called QuietRide and TunedTransom. Why not build a package of USCG-mandated safety equipment – plus add-ons like a 4-person ditch bag – and offer safety package upgrades? Customers might begin to think that the OEM actually cares about them beyond the sale.
Partner with other brands. Boating OEMs and equipment manufacturers often go it alone. But when it comes to safety, they should be less cautious about forming partnerships and alliances around products that send the right message. Example: Why hasn't anyone partnered with Raymarine to promote the LifeTag Man Overboard System?
Elevate your search hierarchy around safety. Search results for "boat safety" reveal the hard truth that the issue has been given over to organizations like Discover Boating, Power Squadron, and the Coast Guard. Some basic SEO direction (organic and perhaps paid) can move the right company with the right content into a search results page with a fresh message.
Full disclosure: We have helped marine brands including Ritchie Navigation, Sabre Yachts, VETUS-Maxwell, Navtec, Hinckley, and others overcome all sorts of communications obstacles.
And we're happy to talk to you.
Join us for a cup of coffee at our office in Madison, CT.