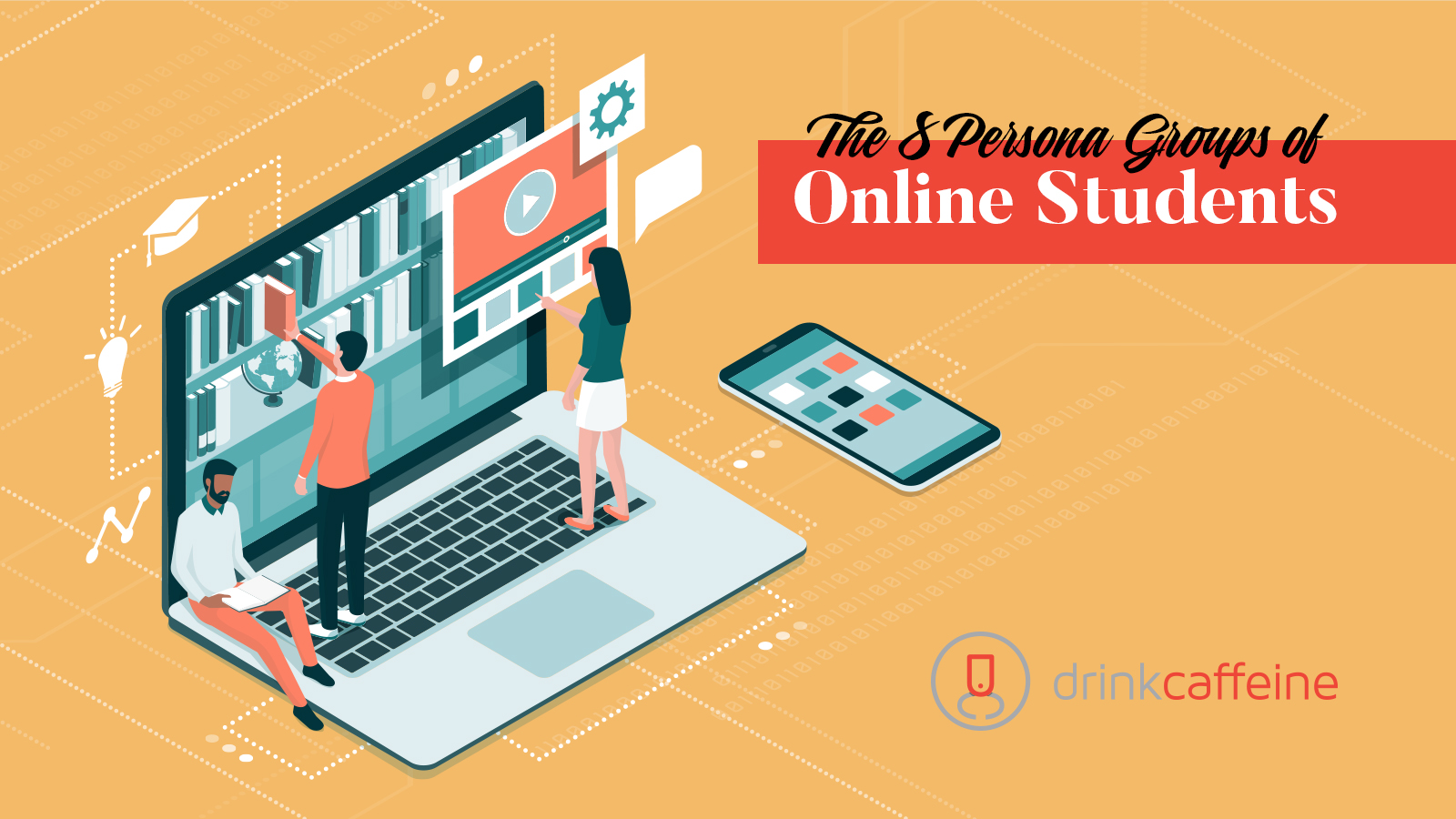 Understanding online degree-seekers
We recently conducted a research study of student personas for a leading, nonprofit, online college headquartered in the northeast (formerly part of the SUNY system).
The results reveal 8 distinct types of online students (which scale up to larger groups of potential students), each with differentiating life challenges and personal characteristics.
While online education personas will undoubtedly vary based on geography, demography, and other factors, education marketers may find it interesting to examine the personalities – and the realities – of these online degree seekers, all of whom are considering ways to get the credential that they believe holds the key to their professional and economic future.
3 categories & 8 cohorts
Category: Military
Summary: These 3 cohorts know discipline and hard work. They learned it through military service. Now they want validation of their worth. They want a roadmap. And with federal funding of their education, cost is not a factor.
Cohort: Young & Hungry
Profile
Mostly male, age 23-30.
Not successful academically, so they went into military.
Service has shown them what they can do. They're ready now to become a student.
Pressed for time.
Cost is not an issue: Government funded.
Career track: In active service: Enlisted personnel, reaching for Sargent Major or CPO rank or officer training. Post military service: Police officer, state trooper, criminal justice system.
Attitudes about education
"I wasn't ready when I graduated high school. I am now. I was a —-head when I was 19, but not anymore."
"I need a degree to advance – whether it's in the service or civilian life."
"I gotta make my move to do what's right for me and my family."
"I know I have a future, but I need to make the most of it."
"Just tell me: What's the plan? Where's my roadmap? Break it down for me."
Duty first: "Transfers & deployment make education tough."
No online college brand preference: "If the military says it's a good school, then it's a good school."
Cohort: Older Soldiers
Profile
Mostly male, age 40-50, experienced military personnel.
Mature, disciplined, self-motivated by intrinsic and learned values.
Need to take one last big step in military career or get professionally positioned for civilian life.
Needs the credential – not necessarily the skills or knowledge.
Cost is not an issue; government funding is there.
Career track: In service: E7 pay grade/Chief Warrant Officer. Post service: Business, management.
Attitudes about education
This is important – for me and my family – but duty comes before education."
"I know how to work until the work is done."
Competitive: "I need a degree to advance – whether it's in the service or civilian life."
"I have to put checks in boxes."
Understands advancement: Its value, how to do it, why to do it. "I know how tough it is to get ahead."
Chip on their shoulder: "Civilians don't get me or my worth."
Busy, hectic lives; time is everything. "No time for bullshit."
No college brand preference: "If the military OK's it, I'm fine."
Cohort: Unsung Leaders
Profile
Mostly male, age 45-55; similar to Older Soldiers but 5 years later in life.
Experienced but not always recognized for accomplishments.
They have families, spouses, ex-spouses, adult issues and complicated adult lives.
Cost is not a determining issue.
Career track: Post service: defense contractor, manufacturing, IT, health care, retirement.
Attitudes about education
"I have one thing left to prove: I can get a degree."
Brick & mortar is a deal-killer. "Education needs to fit in my life."
"I've never been fully compensated, recognized, or valued for my worth."
But motivation is not about money: "It's about satisfaction."
Apprehensive about being out of the game for so long, i.e. "technical literacy."
"I know it's not easy. It's not supposed to be easy."
"I see morons around me getting jobs that I should have gotten."
"Just give it to me straight: How much, how long."
Category: Healthcare
Summary: Both of these female-dominated persona groups are heavily burdened by professional and family obligations and money pressures. But the desire to succeed keeps them going.
Cohort: Nursing/ Current Caregivers
Profile
Mostly female, age 30-50. Ethnically mixed.
Caregivers: Currently in health care field – but also have family responsibilities: Kids, spouses and aging parents.
Hitting the ceiling of the level of care they are allowed to provide; Making the full LPN-to-RN or Paramedic-to-RN transition is the way out/the way forward.
Cost-conscious, process-conscious, credential conscious.
Career track: LPN to RN, or moving "from the ambulance to the hospital."
Attitudes about education
Apprehensive about making the wrong move. "I need to know this is the right path to where I want to go." State credentialing and credit issues for nurses complicate the path.
Anxious to succeed, anxiety about making the right decisions. "I want more for my family than surviving."
Proud:"I see people who went through college and they don't know anything about patient care."
Needs flexibility; without it, no degree.
"My life is one big juggling act."
Cohort: Nursing/Experienced Realists
Profile
Mix of M/F, age 40-60.
Educated, experienced healthcare professionals; but not "ready for the pasture."
Hard workers who moved up the ladder. Now they need a final move up the ladder.
Family responsibilities: Spouses, kids and aging parents.
Cost-conscious, but some employer support.
Career track: BSN to MSN, BSN to MPH, Director, Manager, Supervisor.
Attitudes about education
"Time to shift gears and get off my feet, but right now I'm hemmed in."
"The workplace is changing; I need skills and knowledge so I don't get passed by."
"I have more to give, and I know how to make sacrifices. You'll be surprised at what I can do."
"My life seems like a juggling act; flexibility is absolutely essential."
"Teach me something I don't already know."
Category: General Education
Summary: These 3 persona types had their education interrupted by life events or different learning styles. They crave acknowledgement. They know the value of a dollar. They believe in themselves.
Cohort: Lapsed Learners
Profile
Mix of M/F, age 30-50.
Not super sophisticated or ambitious, but hungry for more than what they have.
Had kids, jobs, health care issues, but never lost sight of getting a degree.
Responsibilities make online the only option.
Cost is an issue. The economic collapse of 2008 still affects their thinking about debt.
Career track: AA to BA/BS, BS to MS, health care, criminal justice.
Attitudes about education
"I want to show my kids the importance of getting an education."
"I've always thought of myself as someone who values education. Now I want everyone to witness my commitment to it."
"I'm juggling lots of responsibility but I'm self-disciplined and organized enough to do this."
Flexibility is critical.
Cohort: Mature & Motivated
Profile
Mix of M/F, age 30-50.
Family responsibilities.
Sophisticated, determined, successful, technologically literate, know what questions to ask.
At a threshold in career: need a degree to advance.
They don't just want the credential; they want actual knowledge; ready to drill deep.
Paying their own way, so very dollar-driven.
Career track: AA to BS/BA, office manager, middle management.
Attitudes about education
"I made sacrifices in my life; this is for me and my career."
"I've seen other people get degrees online so I know I can do it, too."
"This is critical for me – without this degree I can't advance."
Cohort: Misfit Toys
Profile
Mix of M/F, age 25 and under.
Non-traditional students who need to feel supported and guided.
Traditional brick and mortar doesn't work for them because of learning styles, personality, or life circumstances.
Career track: Varied, but they know it starts with a BA/BS.
Attitudes about education
"I'm unconventional and I know it, but I'm capable."
"In my group of friends, I'm the adult."
Apprehensive about education: "I've had some bad experiences, I hate lectures, and I hate long classes."
Ambitious: Hard workers who understand the value of committed effort.
"I appreciate help because I know I need it/can use it."
Applying persona knowledge to content and UX
Having a precise understanding of the persona groups that make up an online education student body enables education marketers to do a few things:
Craft page-level messages for each group that speak to their issues.
Structure IA and navigation in accordance with persona group content needs.
Personalize and optimize online chat functions as well as phone contact.
Position offers of emotional, financial and academic support.
Emphasize the right calls-to-action on interior pages.
Boost lead conversion.

In closing.
Education marketers are under constant pressure to generate and convert leads.
Investing in a detailed understanding of the institution's key persona groups can inform and guide marketing decisions that, together, exert a steady, effective force that guides prospects deeper into the Application –Enrollment- Engagement funnel.
If you'd like to continue the conversation over a beverage, join us.