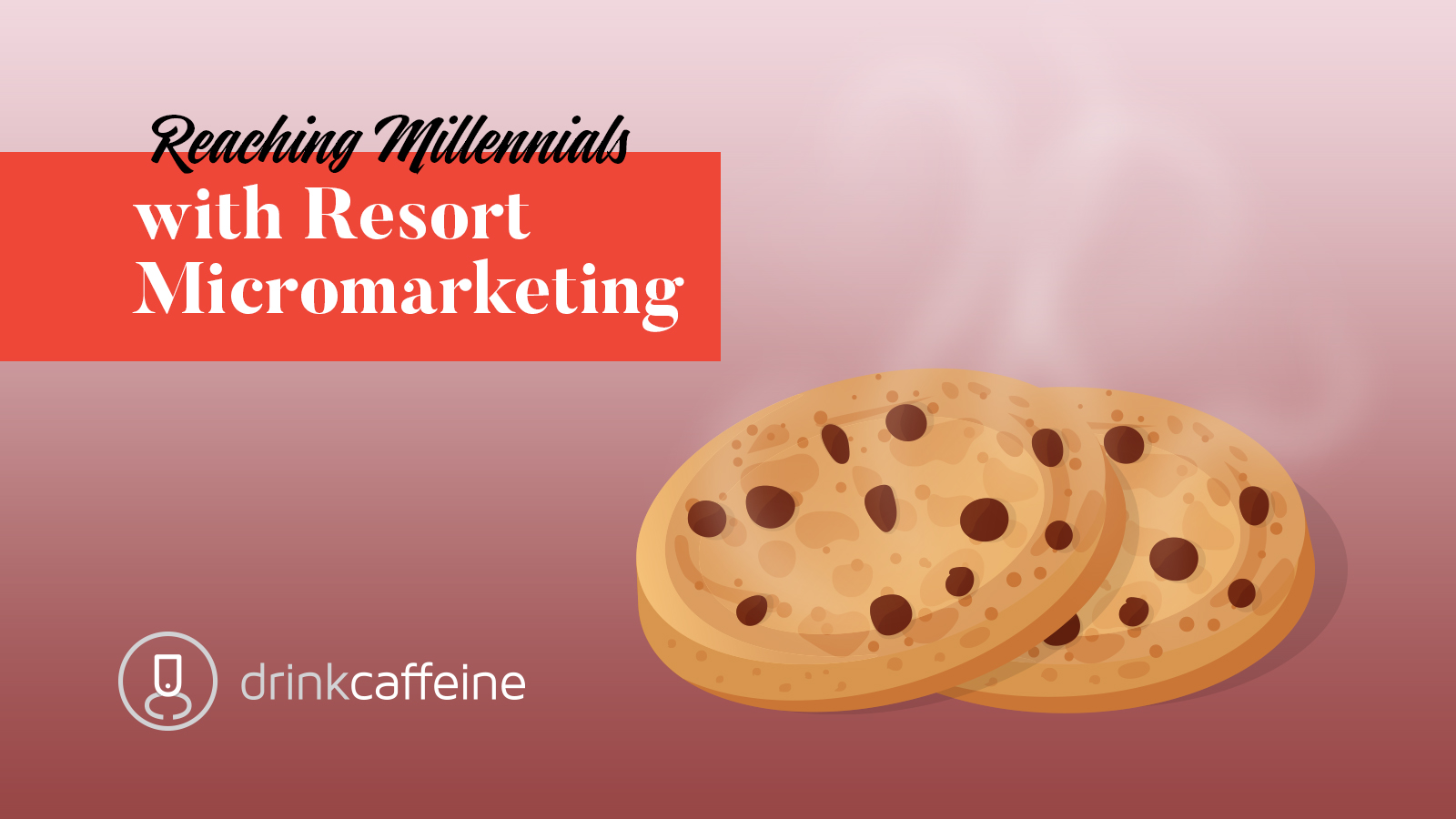 Sorry to say it, but it's the little things
Remember Westin's Heavenly Bed program? It produced heavenly sales, both for Westin and Simmons. It led to the Heavenly Bath, and Delta's Heavenly inflight bedding.
The basis of its success was the realization that a consumer's hotel experience comes down to a handful of small but critical things beyond the basic hygiene of the room: The TV (and the remote), the quality of in-room coffee, bottled water, the shower head and yes, the bed.
Today we have Hilton's warm cookies at check-in, Jackson Hole's organic linens at Hotel Terra, options for late checkout, and many other examples of what we at drinkcaffeine call micromarketing.
Why micromarketing matters to millennials
The content consumption preferences of millennials are well documented.
They crave experiences, and micromarketing, done correctly, can create small "pluses" that amount to meaningful brand connections.
3 steps to a pilot micromarketing program
1. Map your persona groups and their journeys. For example, in our recent work with a ski resort (we work with lots of ski resorts), we identified this segmentation of the path – and included some examples of how other resorts have introduced micromarketing tactics at key points.
Arrival Approach, parking, safety, managing gear, facility entry.
Check-in Reception. Luggage transfer. Path to room. Orientation.
In-room Amenities, smells, sounds, communications, environmental control.
On-mountainTicket purchase, lift lines, ski school, etc. Micromarketing Example: Stevens Pass (WA) introduced Beginner's Only trail maps to make 1st-time millennial skiers feel less self conscious and more at home with peers.
Food and drink Options. Opportunities to upgrade. Ways to offer local, authentic additions. Micromarketing Example: Okemo introduced Ludlow Farmer's Market goods to guests, a hit with millennials.
Apres ski Food and drink, social settings. Micromarketing Examples: Ice Castles at Loon that make amazingly shareable photographs, Stratton's Free Concerts, Smuggler's Broomball.
Departure Gear management.
Post-visit 1-week timeframe following the visit.
2. Build a "Plus Program." Brainstorm ways to add experiential value to each phase of the journey. Get in a room with customer ambassadors, operations, facilities, food and beverage…everyone on whose cooperation and buy-in the effort will depend.
Grade each tactic with two separate 1-10 scores: One for Value to the Consumer and another for Effort, meaning the impact and resource drain on the resort.
Select only the measures that have high (7+) value to the consumer and are feasible and sustainable for the resort (6-).
Determine budget levels, roles, responsibilities, and org-chart realities.
3. Execute a soft launch. Introduce the measures that will have the most positive impact first.
No advertising. Consumers – especially millennials – don't want to be sold on your Plus Program. They just want to experience it.
Leverage social media. Generate content and use the social channels where millennials congregate.
Add as you go. Introduce new pluses according to plan.
Measure. Sometimes this means listening, gathering anecdotes, and monitoring social media traction. Meet regularly to assess its impact as a team. Don't be afraid to eliminate pluses that aren't working, or hurting resort operations.
If you want to talk about it, let's share a beverage.