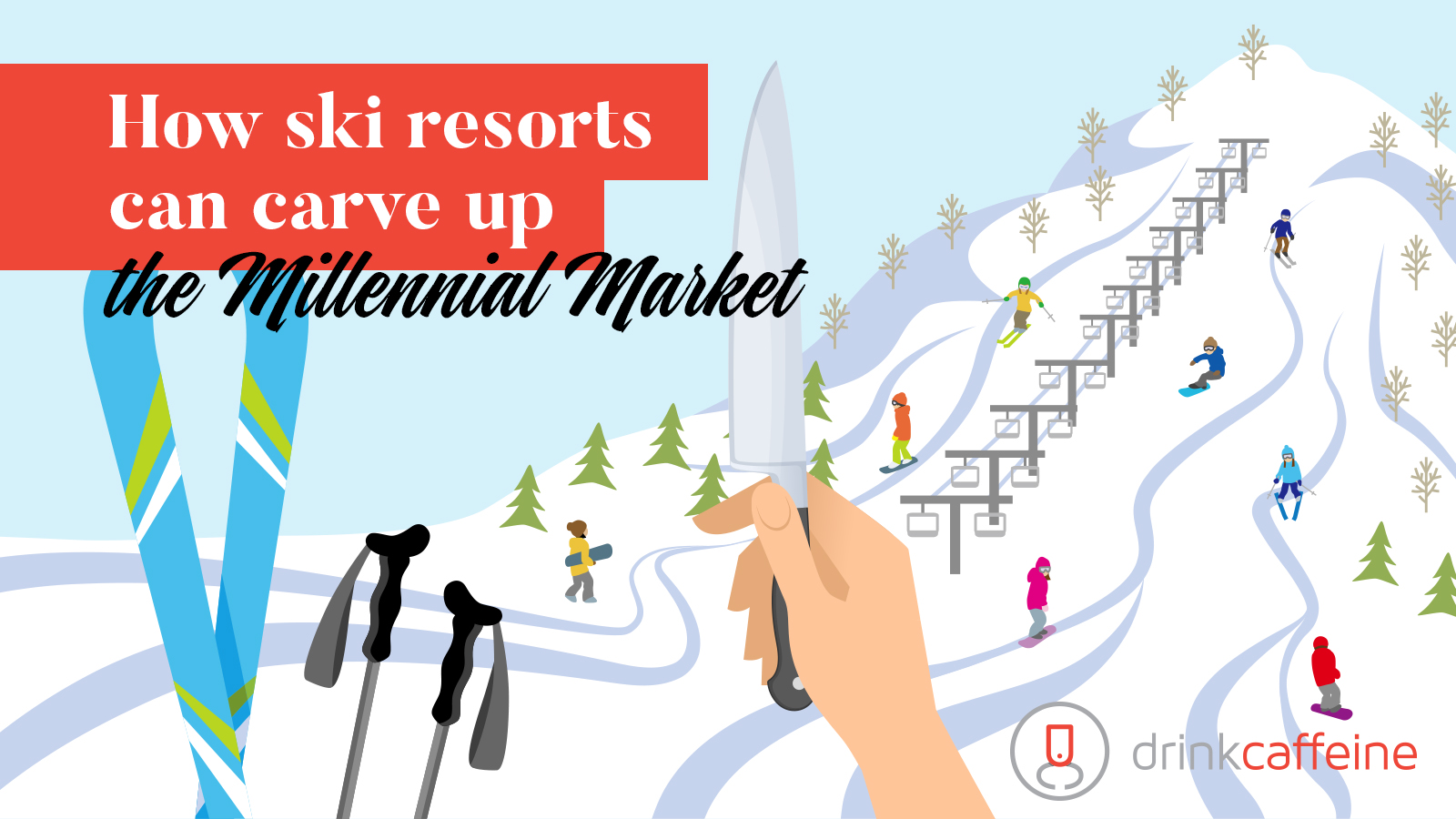 Keep calm and market on.
We all know Millennials relate emotionally to technology, embrace social media, deplore debt, value principles, and desire experiences over material possessions.
But it's time to go deeper – especially if you're in an industry that's struggling with the handoff of a generational baton. Like ski resorts.
There's been widespread concern in the industry about declining participation, and it's led some mountains to radically alter their approach to customer development.
Our view is that bridging the gap from the present to the future rests on a handful of understandings.
The first casualties: Lodging and Lessons
If roughly 50% of beginners who visit a ski mountain are not taking a lesson, it tells you something: Millennials aren't listening.
This millennial quote from a 2016 NSAA article sums it up: "You want me to spend 2 hours doing something I've never done before, with 8 people I don't know, interacting and opening myself up for embarrassment, with an instructor I don't know, and my other 2 friends I came with can't do it with me because they want to snowboard instead of ski? Um, no thanks."
It's equally reasonable to understand that people strapped by debt and shoveling money into rented apartments aren't going to look favorably on pricey slopeside lodging.
Millenials ARE participating
They're just not spending – not in the ways to which ski resorts have become accustomed. (Lodging and lessons, for example).
"Look at the data," said Tyler Fairbank of the Fairbank Group (Jiminy Peak, Cranmore, Bromley). "In recent years, Millennials have been participating in skiing about as much as Boomers did at the same age. Sure, we need to understand them as an audience, but it's also important to take a deep breath and not start chasing them. Nobody likes to be chased, especially Millennials."
What makes a Millennial reach for his/her wallet?
Interesting experiences that go off the beaten trail (think backcountry tours with locals). Small batch food and drink (craft beer and BBQ). Adventures (tobogganing after dark). The box that ski resorts built (around the family ski market) needs to be redrawn.
3 Millennial adjustments you can make
As we've written before, small things can make a big difference.
1. Empower the DIY learner.Terrain-based learning environments should be front and center for Millennials. And how about a mobile-friendly video or app that teaches someone to ski or snowboard?
2. Create social spaces. Or, in other words, don't forget the power of the fire pit. Make environments that are conducive to unstructured social time. Throw in some cornhole and craft beer and you've created a visually pleasing environment that's likely to be shared.
3. Lodging: Make it about value. Consider a Gen Y special for 1st-time lodging guests. Highlight the number of people a room can accommodate. Feature technology (such as Alexa) in the room. The great thing about slopeside lodging is that the convenience really can sell itself, but trial must come first.
Still there? Then it's time to talk. Contact us when the time is right.