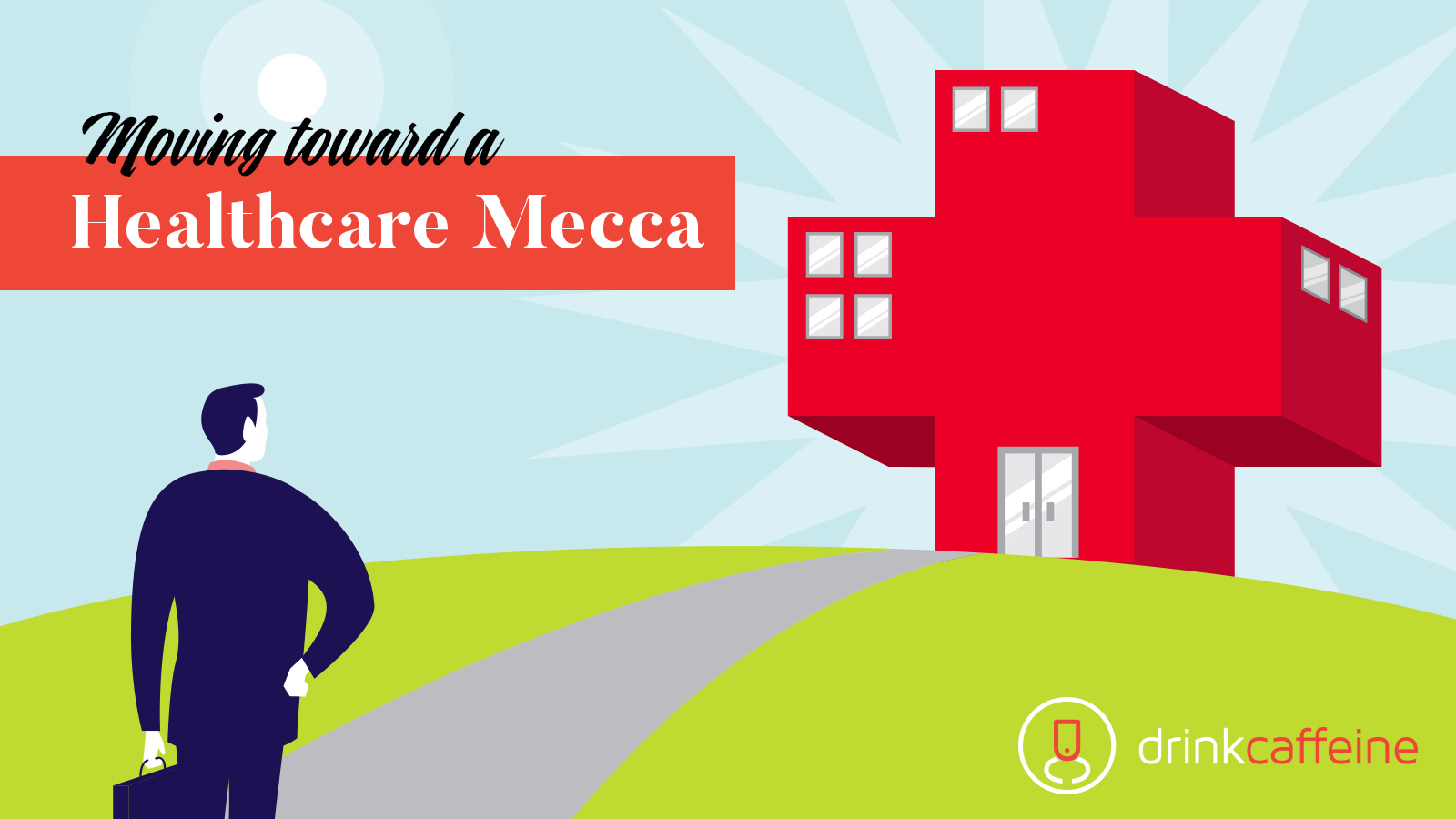 The Destination Medical Center: Is this where healthcare is heading?
There's a relatively new term being used among specialty hospitals and large health systems: Destination Medical Center.
It's a fairly self-explanatory term. But we think it points to the larger issue of the rising tide of consumerism in health care, and healthcare marketers' efforts to provide a compelling point of difference to consumers.
Here's a look at how DMC thinking will shape health care in 2019 and beyond.
The Mayo Clinic: DMC thinking on a global scale
The Mayo Clinic is the largest and most significant DMC initiative, encompassing a revitalization of downtown Rochester, MN.
The concept: A $5.6 billion economic development plan that will make Rochester a global focal point for healthcare research, innovation, and "Translational" medicine, which seeks to break down barriers that impede effective healthcare delivery.
It involves public-private investment, city infrastructure planning and upgrades, and promises 30,000 new jobs. In a word, boom.
But our view is that the DMC is a concept that can be brought to scale at the local and regional levels.
Conveying a sense of place
Large health systems typically present a range of consumer-facing features, including a clinical headquarters (often a hospital), a research institute, outlying primary and specialty care practices in surrounding communities, and other attributes. Yale New Haven Health even has a Center for Emergency Preparedness and Disaster Response.
The point: Health systems tend to persuade consumers based on the scope of their assets and the geographic reach of their facilities. It's a quantitative sell. Whereas the DMC concept, brought to scale, has the opportunity to brand and market based on qualitative experiences defined by a sense of place.
Our client Gaylord Specialty Healthcare, a long-term acute care hospital (LTACH) is a good example. By adding cottages for family members, Gaylord is cultivating its identity as a place where families can live while their loved ones recover.
A question of resource allocation
BNIH data reports that patients say the nonclinical aspect of their healthcare experience is twice as important as the clinical reputation of the provider. So bells and whistles still work well in gaining the attention of today's healthcare consumer.
The NIH also points out that amenities may be more expensive to implement than improvements to the quality of care, but they are more effective at boosting hospital patient volume. [Side point: It's worth noting that as long as hospital compensation is volume-based, the temptation to deliver comfort ahead of clinical quality will be present.]
Micro-destination thinking
DMC thinking often involves master planning and capital campaigns, but it doesn't have to. The idea of a healthcare facility being a destination can be reduced to small, tactical executions that amount to a competitive differentiator. Some ideas from a recent internal meeting at drinkcaffeine:
Indoor/Outdoor waiting areas. Unless there are compelling operational or clinical downsides, why not create waiting areas that allow exposure to landscaped spaces that evoke health and relaxation? BTW: Let's also consider waiting room video content that is entertaining and pleasantly distracting to sick people (such as family movies and documentaries) and reduce self-serving content such as patient stories and corporate profiles.
Incorporating wellness experiences at the point of care. In the same way that any massage practice may use natural light, music, water features, plants, and essential-oil aromatherapy dispensers, health care facilities – from primary care to podiatry – can create a more positive patient experience using the same tools.
Kiosks and concessions. Yes, making food and beverages available at the point of care may disrupt the business focus of healthcare, but such amenities support a patient-focused approach to health by underlining nutrition and hydration.
P.S. Make way for Millennials
It's no secret that Millennials are reshaping consumer markets, including healthcare. By embracing a destination-focused approach to creating a meaningful experience, healthcare facilities can lock into the Millennial market – and develop a new set of perceptions about how good healthcare can feel.
We think healthcare marketing can make a difference.
If you agree, we should talk.